Ever considered creating handmade gifts for a friend or two?
Nowadays, it's easier than ever to get presents for your friends and family.
In a few short clicks, you can have a gift at their front door, sometimes even on the very same day.
There's no denying that it is a wonderful and very useful option, but it doesn't always feel very personal. 
If you have a friend's birthday coming up and would like to give them something special, then why not consider hand-making DIY gifts for them?
From bespoke tags and paper to presents you've built yourself, it could make all the difference to their Christmas or birthday.
Here are nine handmade gifts that will be sure to make your best friends say 'aww'!
Why Handmade Gifts?
Handmade and DIY gifts are more than just a 'thought'.
They show you've put genuine passion and time into gift ideas, having made them from scratch. People love to be thought of, and that really does go for your best friend or BFF, too.
What are the best handmade DIY gifts?
If you're keen to get creative on gift ideas but don't know where to start, here are 9 DIY gift options you might want to pin to your board and get started on right now.
Scrapbook
Why not opt for a classic scrapbook? Nothing will show your best friend how much you love them more than providing a book filled with all your greatest memories with each other.
Photos, letters, ticket stubs, stickers, etc. There are so many ways of filling a scrapbook, and you may not even realize how much you have that could easily go in there.
A well-composed scrapbook will take some time to make, but it is something that you and your best friend will both want to keep close and keep forever. 
The best thing about the scrapbook is that it is a gift that can arrive unfinished.
That is to say, if you don't quite have all of the materials that you would like to complete the book, then leaving space at the end is just a way of saying that you are leaving room for the memories to come. 
Scrapbooks never get old – and if anything, they get better with age.
It's the perfect one of a kind gift idea for anyone looking to share memories with a BFF.
Explosion Box
Explosion boxes are great fun for people of all ages!
They can be made into scrapbooks and are definitely more fun to play with than your average DIY gifts projects. Ever seen a gender reveal party online where the colors explode everywhere?
That's pretty much the type of gift idea we're going for.
Although they may seem complicated to make, they really aren't.
In fact, there are plenty of tutorial videos online to help you make your explosion box, and it will only require some paper, scissors and glue.
Of course, you could always make a sort of birthday card explosion box, which will take you less time, but for an all-out present, why not add some photos, color, stickers, etc?
Make it completely personal to your friend and a gift that they will spend hours opening up and smiling at. Basically, make your explosion box a gift that they will be proud to keep close. 
Grab a cutting board and get creative for your friends and family – with a DIY present that goes off with a bang.
Personalized Phone Case
Personalized phone cases are becoming more and more popular over the years, and here's why: They are incredibly easy to make, they're useful, and they are completely bespoke to you and your BFF!
Phone cases can cost quite a lot of money, especially if you are looking for a gift that is personal to you.
Almost everyone uses phones throughout the day, so it's only normal to want to look at something that makes us smile when we do.
With that in mind, why not buy a plain phone case and make it into whatever you would like?
There are plenty of ways to get creative with it, including adding stickers, gems, glitter, paint, even inserting little ornaments and trinkets. 
It's a great friend gift that's going to see plenty of use. That's for sure!
Bath Bombs and Soaps
Who doesn't want to feel like they are in their very own in-home spa?
For the friend who really deserves some 'me time', giving them that extra special spa treatment is the way to go for birthday gifts and Christmas gifts.
Yes – you can make your own bath bomb packages with a bit of ingenuity.
Of course, you can always buy the products and simply create a care package or container that your loved one will adore and will be able to use in their bathroom in the future.
Or, you could go the extra mile and actually make the self-care essentials such as the soaps, bath bombs, facial masks, hair masks and so on. 
There are plenty of videos and tutorials that can be found online – a great DIY idea if you have time and and are careful in equal measure.
Candles
More than just cake staples at any birthday party, candles are yet another way of adding to that spa treatment or can be provided as gifts on their own.
Whether your special someone or significant other is a big candle buff or keeps experiencing power outages, candles and candle holders are flexible gift ideas great for almost any recipient.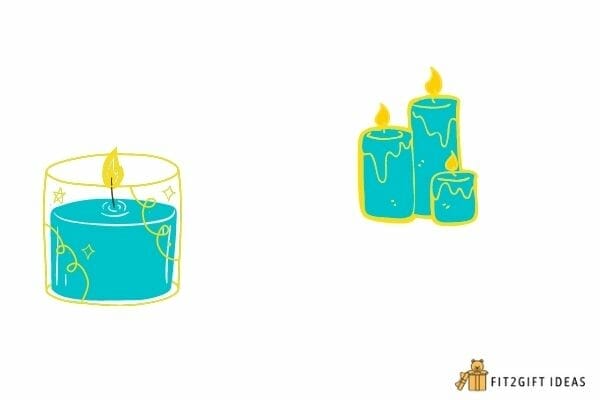 Mixing wax with essential oils will make your candle smell great, whether lit or not.
Candle making kits are easy to come by, and even better, this is one of the best ideas for sheer DIY fun. It's rewarding every step of the way.
You could always make beeswax candles for a more environment and health conscientious friend, too. Just make sure you take care with candle making – it's hot stuff!
DIY Picture Frame
If a scrapbook is too time-consuming, then why not opt for a DIY picture frame?
Many of us remember to buy picture frames or are gifted them at birthdays and holidays, but we rarely remember to fill them.
Making a picture frame for your friend would be an opportune time to put in a photo of the two of you together. They will love having you around their home at all times (hopefully)!
Making the frame just requires a bit of imagination, some arts and crafts, a photo – and you have a quick and easy DIY gift idea.
You don't need to be an artist – you simply need to:
buy a plain frame
then paint it
add stickers
use nail polish
glitter
washi tape
whatever else you like!
All are a great way of making a gift that your friend will never have seen anywhere else, will encompass your friendship and will become their favorite thing to have around.
Frame style tastes may vary from person to person – college students and Grannies will likely want different things, of course. So – be sure to lean in towards what they really love.
Macrame Craft
You will have no doubt seen macrame crafts all over the internet and in more and more stores.
They are absolutely on-trend at the moment and are marvelously pretty. Why not make a macrame gift the next big trick up your sleeve?
Thankfully, they are relatively easy to make and will last a lifetime.
They do take quite some time to make, depending on your project.
There are list guides, tutorial videos and more which will help to break down the more intricate steps. This is our favorite:
The go-to idea is to make a wall decoration, usually hanging from a wooden stick.
For the friend who loves plants, a macrame plant hanger would be the perfect gift as they will no doubt already have the greenery for it.
If, of course, you have plenty of time, motivation and materials, then you could also try to make a DIY hammock for your friend.
As long as they have the place to put it, they will love it! 
Homemade Condiments
Who doesn't love a good condiment? We're not just talking salt and pepper, of course.
For a friend who prioritizes the sauce over the food, homemade condiments are a great gift. 
Homemade condiment recipes are easier to make than you think, with more and more tutorial guides appearing online.
You could create a Christmas spice blend or a hot sauce, for example.
You know your favorite person better than anyone else – do they love smelling potpourri, or tasting a tingling spice on the tongue? Go wild with the possibilities.
You might be able to make your favorite family member or that special someone a Christmas or birthday gift using items around your home.
Our favorite resources for making condiments online are
Pinterest pins
YouTube videos
Get looking and build yourself a list of ingredients!
Other Honorable Mentions For Great Handmade Gift Ideas
Cork board – simple. Buy a cork board and pin your best memories and other meaningful things on there
Mason Jar – fill with candy or other memorable goodies. Easy to make and personal.
Jewelry dishes – there are plenty of craft kits for decorating jewelry dishes or boxes.
Conclusion 
Finding the right present for any friend can be difficult. For that extra special present that says more than you know, why not create handmade gifts to really celebrate your friendship?
Let the DIY gift ideas we've listed above be just a starting point.
Who knows – you could be making friends all of their Christmas gifts by hand if you do a good enough job…and if your first gift goes down a treat with your friend, you might get addicted to DIY gifts for the rest of your friends.