9 Amazing Gifts For Someone With ​A Broken Arm
We get it. Buying gifts is hard at the best of times, let alone for someone with a broken arm!
When a friend or a family member has broken their arm, chances are they'll either be pretty sad or could be in need of your assistance…or both.
Offering a get well gift package is a great way to show support to a loved one in need, or simply put a smile on their face.
A broken arm care package can bring much needed comfort but where do you start if you suck at buying gifts?
We've got you covered. In this post, we have put together nine broken arm gift ideas, ranging from useful to cute to downright funny.
Gifts for kids and adults with a broken arm
1. Castcooler Immediate Itch and Odor Relief for All Breathable Orthopedic Casts, One Size
The Castcooler might initially look like simple, blue stretchy stuff and leave you wondering what it does.
But, when put over a broken arms' cast, and hooked up to a vacuum, the end result will make you very popular with the cast wearer!
It's designed to keep the cast dry and fresh and solved two of the biggest things that bug people about wearing casts.
That awful smell
Itchyness
It helps keep the cast moisture-free and thus prevents the growth of bacteria that causes both itching and bad odor.
The best part is, it's one size fits all making it a suitable gift for both kids and adults!
You'll save the day of the person wearing the cast, especially those of us who complain about itching and smelling inside their cast but didn't know there was a solution.
If you know someone who has a cast, it would help save their sanity.
Suck the moisture and stink out of your cast every day and keep smelly casts fresh and dry with this gift.
2. Juvo Toilet Aid
Breaking an arm (on any other part of the body) results in challenges that hinder mobility. It even becomes hard to perform the normal activities, including cleaning up after visiting the toilet.
Juvo, a self-assist toilet aid would make it easier for them to use the toilet in an easier and dignified way. Juvo is designed to facilitate easy and comfortable use of toilet paper. It holds the tissue in for easier wiping.
The Easy Squeeze Trigger helps lock the tissue paper in place so that you won't mess up your hands. Once you are done, the tissue paper can be released for disposal by pushing the actuator button. It's simple, safe and hygienic. Besides, the handle can be used from the back or front.
3. Lock Laces (Elastic No Tie Shoe Laces
For those who have broken their arms, fastening their shoes laces is an uphill task. There might be a lot of issues when it comes to getting the feet in/out. It becomes even more challenging to adjust the entire boot's lace tension each time.
LOCK LACES are elastic no-tie shoelaces. As a result, it takes away the hassle, and helps them save me some time. The LOCK LACES are stretchy enough to both hold the feet firmly.
They make wearing of boots and walking in them pretty easy and simple and comfortable. They offer all good, all round support without any pressure points. Besides, LOCK LACES conform their feet to feel much better throughout the day.
 4. Get them a Casttoo
Broken bones occur frequently. Everyone – including the kids, teens and adults – can expect to wear a cast at some point in their life. But, no one needs to wear an ugly looking cast just because the orthopedic recommended for you to heal. Everyone needs to have a casts that doesn't look like a death sentence.
They need something can be proud of.
That is why the idea of Casttoos (that is, tattoos made for casts) was born as a good gift for someone with a broken arm. Because it is much harder to draw a detailed and intricate design on the rough cast surface, castoos takes care of that challenge.
The good thing is that are casttoos available for all colors, sizes and all types of people. That is why Casttoos make a good, get well gifts for kids with broken arm or gift for person with 2 broken arms.
  5. Sock Aid – Easy On, Easy Off Slider
People who have broken their arms might not be able to reach either of their foot to put on socks. So it becomes close to impossible to wear them by themselves.
But, this socks aid, Deluxe Sock Aid, makes their lives easier. By simply dropping the sock on the floor, holding the rope handles and sliding the foot all the way into the plastic smooth holder, the socks or stockings will easily be slipped onto the feet.
It's lovely, and easy to use gifts for someone with a broken arm- yet a highly relieving. Plus, the soft and flexible contour shaped is designed for individuals with weak hand strength. As a result, it gives them a comfortable grip besides making it easier for them to insert socks onto the sock aid.
Check out these gift ideas for cruise lovers
6. Books For Kids With Broken Arms
Books are a great way to make kids realize that what they're going through is completely normal, and that broken bones happen to even their favorite fictional characters!
Grab a book which the injured child can relate to best, for example, Charlie is Broken.
This is a book series where the reader gets to enjoy the beloved characters of Lola and Charlie.
This book is about the two characters practicing for a circus show when Charlie injures himself while playing soccer.
Lola is devastated that the already injured Charlie won't be able to participate in their upcoming circus show decides to help Charlie during his difficult time by becoming his nurse.
If your kid fell and broke his arm, you can buy this book to read together. The kid will relate to the poor Charlie who had his arm broken.
It makes one of the best gifts for someone with a broken arm. Plus, you will just love Lola and Charlie.
Wondering what to get for a vet after your dog died?
7.  Waterproof Cast Cover For Arm With Robot Design 
Another gift to help turn a kids frown upside down.
If they've broken their arm and it's in a boring, typically bland plaster cast, pretending they have a bionic, robot arm in the shower should cheer them up.
It stops the plaster cast getting wet and also looks pretty darn cool.
While helping to keep your cast clean and dry, these covers also come in different colors, sizes and patterns if you do a quick search. There are even designs for adults!
Your kids (and adults) will feel better and heal better with a cool waterproof arm cast cover.
Also read our germaphobe gift basket
8. Flexible Cast Scratcher – Scratch That Itch
If the child has broken their arm, it would break their heart if they realize that they can't stay and play their beloved game (like the popular Dinos vs Submarines game in the bath).
Even when the caring parent wraps the little kid's cast with over 1000 layers of cling wrap, 4 trash bags, probably more cling wrap and Press and Seal, chances are they never get the peace of mind in their bodies. The parents are always worried that the cast would get wet and begin degrading.
Thanks to Seal Tight Freedom Cast, the kids don't have to avoid water because of a bandage or cast. The kid can always enjoy themselves without worries about messing up. The thick, non-latex diaphragm stretches easily over bandage or cast forming a watertight seal.
Plus, the vinyl curtain comes with a tight, wide band that helps it to stay tight to their bodies. Besides, each application eliminates the need for pumps, strapping or hook and loop closure.
Also read:  gifts for athletic boyfriend
9. Plush "GET WELL SOON" Teddy Bear
You can't go wrong with a cute cuddly toy to show your sympathies for your injured friend, relative, partner…whoever.
A teddy bear melts even the coldest of hearts, especially one that belongs to someone with a broken arm.
You have various choices; some with candy, some come with games or cards, but our favorite is the cute bear we've featured that comes with a marker for people to sign the cast.
Guaranteed to put a smile on the injured persons face – it'll make you really understand why you should gift some with a broken arm if you didn't already.
If this bear doesn't tickle your fance, you have plenty more to choose from to find the perfect gift.
Summing it up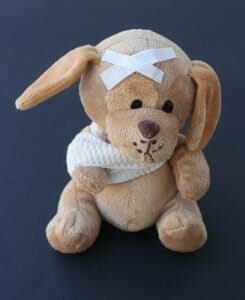 Broken arms happen – they're a common injury but we don't often realize how sad and life-changing they can be for people for the duration it takes to heal their broken bone(s).
Sending the victims, a "get well" bundle or broken arm care package makes them feel appreciated, optimistic and comforted.
The above list gives you some cool ideas to gift your friends and relatives who have broken their arms.
Related posts
Gift for marine going to boot camp
Cheap gifts for expensive taste