Everyone enjoys receiving a beautiful gift box delivered to their door, especially when it's a bottle of their favorite wine!
Gift baskets are a fantastic way to greet a new baby, celebrate a birthday or an anniversary, or cheer up a friend who isn't feeling well. Today, we're going to talk about how to pick the perfect wine gift baskets under $100.
These inventive baskets are completely customizable, ensuring that you get the ideal cheese to complement a powerful red or a mild white—not to forget a refreshing rosé. 
Whatever you select, know that a glass of wine will cut through the creamy cheese wonderfully. Gift one of these gift packages for your loved ones' wedding, birthday, retirement, or heck, just because it's "Wine-o-Clock"!
Classic Red Wine Gift Basket
Nothing surpasses a rich wine and palatable snacks gift package for red drinkers. This basket features lots of matches for the serious red drinker, whether sweet or spicy. 
It was virtually created for a quiet night in, with smoked gouda, sausages, crackers, cheese straws, and chocolate sweets, not to mention a deep Italian red produced with Sicily's characteristic grape, the Nero d'avola.
This wonderful basket is finished up with a huge burgundy wine-colored bow that flawlessly ties everything together.
This red box's wine and delicious snack match is perfect for a cozy night in front of the fireplace. Enjoy the cheese straws and artisan crackers after a glass of deep Italian red. This elegant present is difficult to resist!
California Getaway Wine Gift Basket
This gift basket is like a sampling trip of Napa Valley, complete with rich cabernet and sharp chardonnay, but with additional smoked gouda blend and salted almonds.
It comes with two bottles of Cabernet Sauvignon and Chardonnay from California, as well as gourmet treats like olive tapenade, dry salami, butter toffee pretzels, and cookies.
Cheese and salami, crackers and tapenade, nuts, pretzels, and cookies, all accompanied by two bottles of California wine in the state's most recognized styles—cabernet sauvignon and chardonnay—are the ideal way to end a long workday or just about any other occasion.
Artisan Meat and Cheese Gift with Wine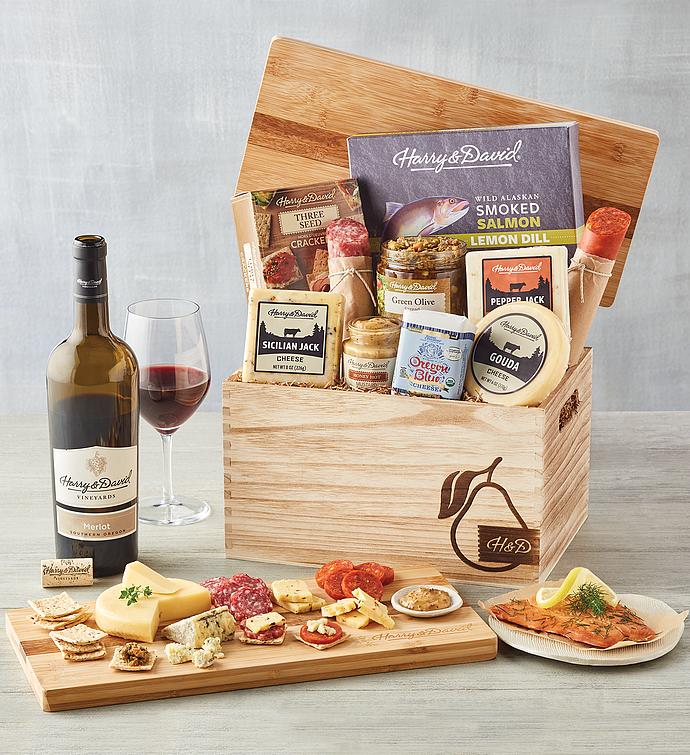 Look no further if your recipient prefers cheese with a glass of wine. Containing a bottle of royal crest red or pinot noir, a hamper with essentially a large meal would be enough to satiate a dinner on a date.
This selection includes Monterey Jack artisan cheese, a bottle of pinot noir and a red blend, crackers, as well as salmon and smoked pepperoni sausages.
If that isn't enough for your giftee, there is also some green olive spread and hot mustard for more spice.
Deluxe Cheese Crate with Wine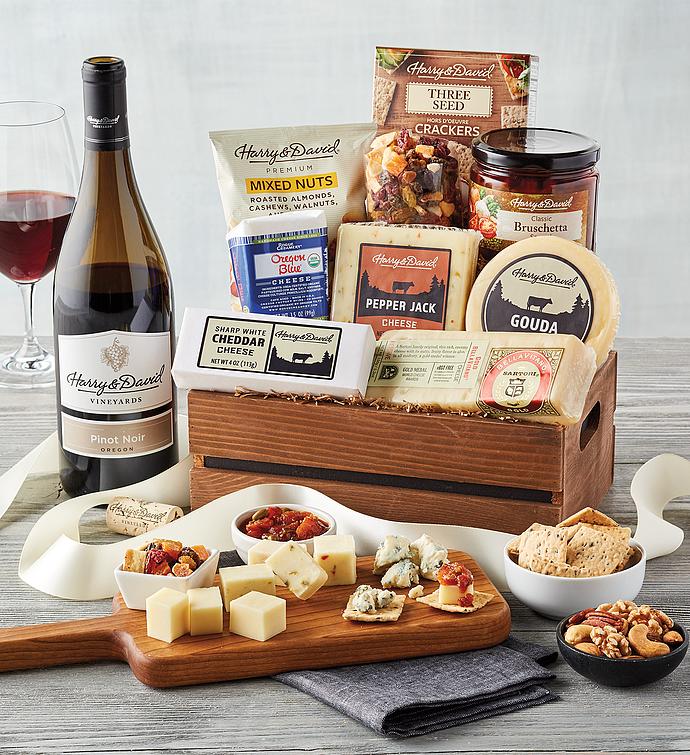 This delightful basket is all about the cheese, with five distinct fromage styles including gouda, blue, and even crackling cheese curds.
This delicious fromage gift crate will provide any charcuterie connoisseur with a delectable charcuterie delight.
Crackers, almonds, olives, fruit, and, of course, a bottle of pinot gris are included in the box to round out the munching session.
Rosé All Day Gift Crate
It's rosé all day, as the phrase goes. Since pink is associated with freshness, overall wellness, and liveliness, it goes without saying that rosé, a pink wine, is frequently given as a gift for any joyful event.
This fruity wine pairs well with water crackers and lemon cookies, making it ideal for newlyweds, girlfriends, and any rosé fan.
This wine is for individuals who enjoy it sweet, and it's best served with some garlic bread or some sweets snacks like lemon biscuits.
Wine Party Picnic Gift Crate
In one compact box, you'll find everything you need to organize an impromptu wine party.
Garlic sausage, two types of cheese, crackers, chocolate-coated sea salt caramels, and toffee nuts are paired with a red and a bottle of white wine.
Classic White Wine Gift Basket
On a sunny evening, Mountain View's delicious cheese and crisp pinot grigio are a match made in heaven. There's a lot to eat with crackers, snack mix, and garlic sausage.
This delicious wine gift will be tough to resist for the wine lover in your life! They'll find a fresh Italian Pinot Grigio combined with an array of exquisite gourmet food and decadent desserts inside this basket. 
Handcrafted garlic sausage, creamy savory cheese, and flatbread artisan crackers will be delivered to their home. This thoughtful present is appropriate for any occasion.
Sunshine Picnic Basket With Wine
Grab this basket of pinot gris with thuringer sausage, spinach artichoke dip, and peanut butter pretzels, baklava while the weather is still pleasant for a truly Instagram-worthy picnic.
A bonus? The happy recipient of this gift will undoubtedly get a lot of use out of the lovely picnic basket.
Thank You White Wine Gift Box
Looking for the ideal approach to express your gratitude? This white wine gift box might be just what you're looking for.
They'll get a bottle of 2020 pinot gris, as well as a linen wine bag to carry it in, as well as roasted almonds, three-seed crackers, and sharp white cheddar cheese to pair it with.
Hearty Bites & Wine Gift Basket
Send this to a married couple, a recent graduate, or a guy who just landed himself a job.
This wine basket includes – cheese and onion blend, hot mustard, pineapple mustard, cheddar, sauvignon blanc and chardonnay, sausages and cottage cheese etc.
Chocolate Treasure Box with Wine
This box of treats is a treasure trove for red wine experts who are also chocoholics.
This basket, which includes a dark chocolate bar, Royal crest red blend, chocolate covered pretzels, milk chocolates, chocolate mini mints and malt balls,chocolate covered popcorns and so much more!
Wine, chocolate, and a vintage wooden chest-bursting at the seams with delectable treats and a bottle of Southern Oregon wine? This is an extravagant gift basket for the wine and chocolate connoisseur in your life. 
All of these gourmet treats complement a bottle of Harry & David Royal Crest Red Blend wine perfectly.
Champagne and Chocolate Gift Basket
Not quite wine, but a bonus gift basket for Champagne lovers.
There is no better combination than a scrumptious champagne and delectable chocolate.
This stunning gift basket is sure to brighten someone's day or week. 
This gift basket includes a beautiful bottle of champagne as well as a variety of chocolates, dark chocolate dipped salted pretzels, and truffles.
Conclusion
The wine baskets listed above are all reasonably priced and can be given as gifts for birthdays, anniversaries, and other occasions. Your giftee will surely like any of the wine baskets listed above, so send them any of them with confidence!