When it's time to decorate the Christmas tree this year, chances are, you'll be grabbing the box of tried-and-true ornaments that you've used every year. After all, the memories they represent are priceless.
While there's nothing wrong with this type of tradition, DIY Christmas ornaments can have just as much meaning- especially if you're making it a family activity and making gifts for your loved ones.
Whether you're in the holiday spirit right now or you want to wait until you've chosen a tree, you might want to start giving some thought to the ornaments that you'd like to create this year.
In a rush? Here are our top picks:
In this article, we'll provide you with some ideas for easy-to-make DIY ornaments that you can make for your tree or give away as gifts to your loved ones. These ornaments are so fun to make; even the kids will enjoy helping out. 
Leather Gingerbread House Ornaments 
If you have any leather scraps lying around, you can use them to cut out some house silhouettes. Then, get your hands on some white paint and a thin paintbrush and start decorating them. 
Buffalo Check Ornament 
If you want to be more precise with your cutting, you can use your cutting machine and iron-on vinyl to create some Christmas ornaments. Simply get some buffalo plaid vinyl and cut some circles.
Then, you can cut Christmas shapes or Holiday words/phrases (Peace, Be Merry, etc.) from white vinyl and iron the plaid circles onto wood circles and the letters on the plaid.
Gumball Machine Ornament 
This cute, retro ornament will look great on a novelty tree, and it's easy to make. Get a clear ornament and add some tiny marbles. Then cut cardstock to glue onto the ornament. If you have a cutting machine, you may be able to find a template to be precise with your cuts. 
Kids' Artwork Ornament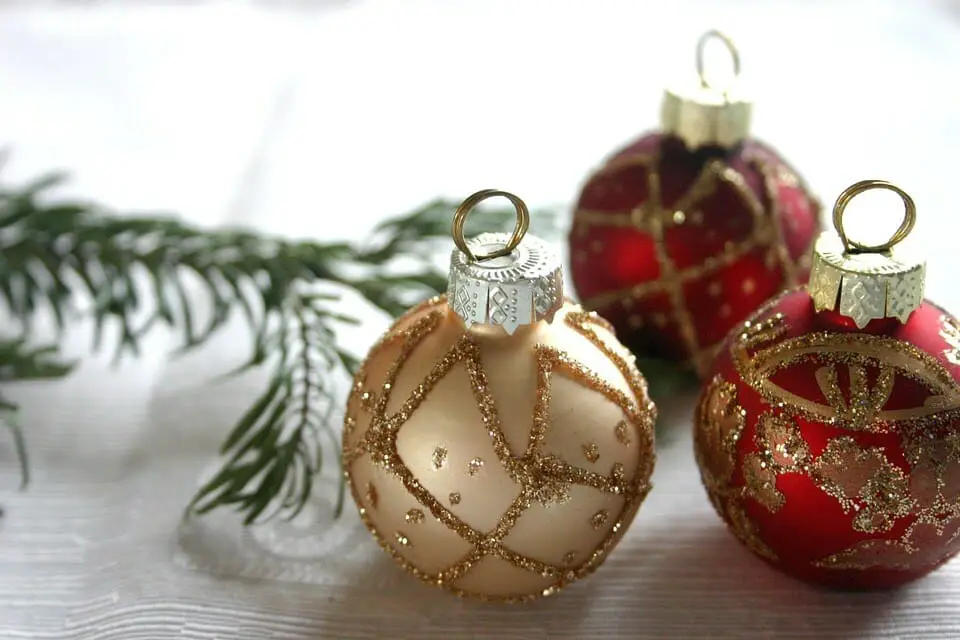 This ornament is a joint effort between parents and kids (or even for a preschool or elementary school class). Have the child/children draw a picture that can be transferred onto a wooden circle. Simply cut around the drawing and then apply it to the wood, using decoupage.
Taco Ornament 
No rule says you have to be traditional with your ornaments. Simply grab some felt to create cute, miniature tacos. Cut circles out of some yellow for the shells, green for lettuce leaves, brown for ground beef/taco meat, red for tomatoes, and orange-yellow strips for cheese.
Then, put them together as desired. You don't have to be perfect; you can cut them by hand. Of course, you can also use your cutting machine if you have one and would prefer to be a bit more precise. 
Melted Crayon Ornament 
It's no secret that when kids are coloring, they break crayons now and then. Instead of throwing them out, save them and use them to make ornaments.
Place the crayons in silicone bowls and melt them. Then pour into a clear ornament and swirl around until the inside is covered. 
Children should always be supervised when working on ornaments like this. 
Grinch Ornament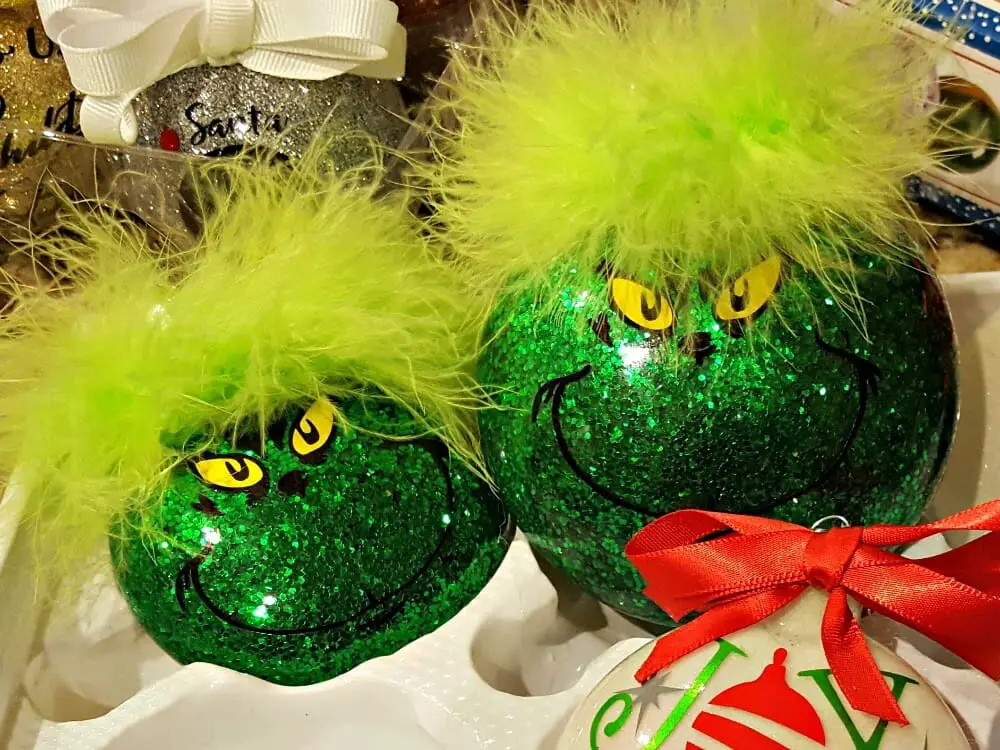 Kids will have fun creating this ornament. Simply stuff a clear ornament with some green tissue paper. On the outside, draw a heart shape with some glue, cover with red glitter, and add some red/white baker twineS on top. 
Alternately, you can put some mod podge or hairspray inside of the ornament and swirl it around. Drain the excess and then sprinkle some green glitter on the inside and shake until it's stuck all around.
Then, use your cutting machine to cut a heart out of red glitter (or just plain red if you prefer) and stick it on the outside. Again, you can add the red/white baker's twine on the top to finish it off. 
Marbled Ornament
Something like nail polish can help you create a marbled look for your handmade ornaments. Simply pour the nail polish over water and swirl/dunk the ornament to create an elegant design. 
Stained Glass Ornament 
You don't need anything special to create these, simply grab some premade stained-glass pieces at the store and paint them. Then, add a string to the top for hanging on the Christmas tree. Choose designs that you know your loved ones will enjoy!
On the other hand, get some plexiglass and some lead strips if you have a bit more confidence in your skills. Cut out the design as desired and place the lead strips in the appropriate places. Paint using the colors you like. 
Cookie Cutter Ornament 
If you've got a bunch of cookie cutters that you don't use, instead of letting them sit there and collect dust, repurpose them. Wrap with some twine or fabric and secure with some craft glue. Add a little string or hook at the top to create an adorable ornament.
Don't feel like you're stuck using the Christmas shapes either; any shape will do. You don't have to be traditional—the more creative, the better. 
Hand-Lettered Wood Slice Ornament 
If you are proud of your hand-lettering skills, consider making some ornaments to show off that skill. Get some wood slices and paint them. Then, take your black marker and start writing your favorite holiday-themed words/phrases (or anything else you would like to use). 
If your hand-lettering skills are not that great, but you have a cutting machine, you can create some beautiful decals to place on the wood circles. However, you'll want to seal them before you give them away or hang them on your tree.
Construction Paper Wreath Ornament 
This is a great idea for little ones to make. One page of green construction paper will create several wreaths.
You might want to construct the wreath and then have your little ones decorate it. On the other hand, if they're a little older, you can help them build the wreath from beginning to end. 
Clothespin Reindeer Ornament
This is another excellent project for kids. To create a reindeer from a clothespin, simply use a brown pipe cleaner to create antlers, shaped in any way you want. Use a black marker to draw hooves and the division between the front legs. Attach googly eyes and a red (or black) pom-pom to create the face. 
If you wish, you can add a little ribbon to look like a scarf. 
Chalkboard Ornament 
Paint an ornament with black chalkboard paint. Then, give the kids a piece of chalk and let them go to town. Then, erase it and let them start over. 
Emoji Ornament 
Take some round ornaments and paint them yellow. You can spray-paint the outside or use the mod podge (hair spray) technique to line the inside of the ornament with glitter to create the base for emoji ornaments. Then, get some stickers or cut some decals out with your vinyl machine and add the faces as desired.
This will give your tree (or your loved ones' tree) a boost of personality. 
Lip Balm Ornament 
You can put this together yourself or perhaps put together kits for your loved ones to create their own ornament. 
Use a circular lip balm container, some metal studs, a tassel, and some craft glue. Add the tassel to the bottom and the metal studs all around the container.
If you're giving the kit to your loved ones, make sure to include some instructions. 
Poinsettia Ornament 
This is a great way to use those empty toilet paper and paper towel tubes. 
Simply paint them red (for the flower) and green for the leaves. Then, make ¼" cuts all the way down and shape them into petals and leaves. Then, shape them and glue them together to create some really cue poinsettias. 
Paint-Dipped Pinecones 
These are really easy to make and work well with traditional décor. 
Simply send the kids out to collect some pinecones that are mostly still closed. Dip them in white paint and let them dry. Add some gold leaf as an accent. 
Snowman Hoop Ornament 
You can use hand-embroidery hoops to create these adorable ornaments. 
Simply tightly wrap some white fuzzy material around the hoop and secure it. Then, use googly eyes, black pieces of felt, and whatever else you want to decorate your snowman.
Rhinestone Snowflake Ornament 
Purchase some premade foam snowflakes and decorate them with colorful rhinestones; this is another project that's so easy, even the little ones can do it; in fact, this is a great way to work on their fine motor skills by picking up and placing these rhinestones. 
Conclusion 
When it comes to DIY Christmas tree ornaments, the sky is the limit. There are so many things you can make and do!
Consider making some of the ones listed here. You can make them for your tree, of course, but they also make really great gifts for your loved ones!