Choosing the perfect gift for anyone is quite challenging. However, offering the gift of travel takes the stakes even higher, excuse the pun! It is a very personal present that promises a lifetime of memories and experiences. But how to give airline tickets as a gift and surprise your loved ones?
The gift of travel is highly appreciated by twenty-something-year-old millennials because they prefer collecting experiences over material possessions, but older adults also love to prioritise travel in retirement or simply to enjoy the world.
A trip or vacation will almost always be remembered fondly!
Despite all the excitement that comes with the gift of travel, the process is quite tricky, especially if you want an element of surprise.
There are factors to consider to make it happen smoothly. Here are a few tips on how to give airline tickets as a gift creatively:
5 Creative Ways to Package and Deliver a Plane Ticket Gift
The best part about giving gifts to your friends and family is the sheer surprise and delight on their face when receiving it!
With plane tickets, it's a little more difficult than just wrapping up the gift and presenting it.
Here are five amazingly creative and fun ways to deliver the surprise – and trip – of a lifetime to your loved one:
1. The Fake Out Gift
You've no doubt seen these on social media. A family member gifting their kid a gift of very little value but putting it in a Playstation 5 box.
Cruel, but you can flip the fake out idea on its head and do the opposite to provide a smile instead of a frown. Some ideas include:
Pretend to propose with a wedding ring but have a folded airline ticket inside
Put a small ticket inside a massive box or gift box, so the ticket is completely unexpected
Come home with lunch or cook for you both and put the ticket inside your friends food box
Get creative. You can fake out with anything. Make it relevant to the person receiving the gift.
2. The Special Delivery
With this method of gifting an airline ticket, you don't even need to be there.
Get the ticket delivered to your friend or family member in a special way and wait for their excited call telling you how awesome you are!
Options here include:
Delivery on a drone
Delivery on a remote control car
A food delivery with ticket inside
Delivery with flowers
Getting their child to present the gift
Delivering with a robot, like the Roomba vacuum or similar.
Again, there are no bounds with how creative you can get with this. Get delivering!
3. The Unexpected Discovery
You've seen this in the movies. The recipient of a gift finding it where they least expect it and absolutely melting with delight.
If you want the same reaction from your loved one, give the unexpected discovery method of gifting a try.
Some options here include:
Leaving it in the dash of their car (or fake-out that they have a parking ticket!)
Leave it inside their favorite video game, movie, music case.
Post it inside their locker at work or in the gym
Play a game where the winner discovers their unexpected prize (try not to win obviously!)
Again, there are unlimited opportunities limited only by your imagination
4. Special Gift Wrap the Airline Ticket
No, we're not talking about your bog standard wrapping paper.
Get more creative than that and this is a great moment to get personal too. Show your loved one that you have been paying attention to their likes and interests.
Options for special ways to wrap a plane ticket include:
Inside a t-shirt of their favorite movie, tv show, video game or with a personal, meaningful message
Gift them a game or something of interest with the plane ticket inside. The packaging becomes the gift wrap for the ticket
Create a customized gift box decorated with your most personal memories. The ticket goes inside.
You can also use themed clues like gifting destination guidebooks or essential travel items in a travel bag with a simple note and the gift card/ticket.
Can you think of any other cool ways to wrap your airline ticket? There are endless ways.
5. Social Media Delivery
Let's be honest, we spend a ton of our "social" time on social media these days, so a surpise gift delivered creatively via social media will always go down a hit.
It all depends on how active your friend or family who receive the gift are on social media. But some options here include:
If you have over 10k followers on Instagram, you can send your friend a private story asking them to "swipe up" for a surprise (a link to their airline ticket)
Simply reply to a sad post of theirs about needing a vacation or needing a break with a screenshot of the gift or a link to the gift
Create a post and tag them in it (if you don't want the whole of social media to know, set the post to private between you both)
As with all of these options, your creativity is the only limit. Social media has a ton of tools to have some fun with. Use them creatively to create the ultimate surprise.
Here's a video of all of these methods in action:
Tips on How to Give Plane Tickets as a Gift and Get it Right
Consider The Recipient
Although the chance to travel or vacation is an excellent gift, it should also be convenient for the recipient.
A trip out of town isn't always as simple as it may sound. Without much consideration, the gift may turn into a stress and have the opposite effect you were hoping for.
You really have to keep your ear close to your loved ones and subtly find out what is best for them.
Are they in a position to take time away from family or work obligations?
Do they love traveling in the first place?
If yes, would they love company?
Or are they solo travelers?
All these questions are valid and the key to successfully giving airline tickets as a gift to make your loved ones scream with delight!
Buying The Trip
Once you are assured of their availability and interest, it is time to commit. There are various ways to buy air travel, including airline gift cards, mileage transfer, or vouchers.
Although you might feel inclined to choose the destination and airline immediately, don't do it just yet.
There is always a chance that the recipient doesn't favor the location or choice of airline (if they're super fussy!).
Some ways to get airline tickets which solve this issue include:
Miles and Points
Do you have a stash of points or miles that you would like to share? Gifting someone is an excellent idea. With your knowledge of how the program work, it is best to handle the reservations yourself.
Are you also joining the trip? Why not pay cash for your ticket to replace the points you gifting for your friend or family member? Trips are always more fun when you aren't alone!
TIP: Check out any bonus transfer offers before making any plans. It is almost always better to use your points on certain flights, at certain times and to certain places. Do your research, so you have a better chance of getting the best value out of your points for hotels and flights.
Airline Gift Cards
The best aspect of gift cards is their flexibility. Just ensure that you understand the terms and conditions of their use.
Usually, gift cards do not expire (but double check with your specific gift card and airline).
They can usually stay unused for years without diminishing in value.
Though, in the case of an airline merging with another or even bankruptcy, you are likely to encounter some problems, so do try and encourage your loved one to book something as soon as they know where they want to go.
The best time to buy airline gift cards is during the holiday season.
Airlines tend to offer promotions and bonus offers which you can use for gift travel.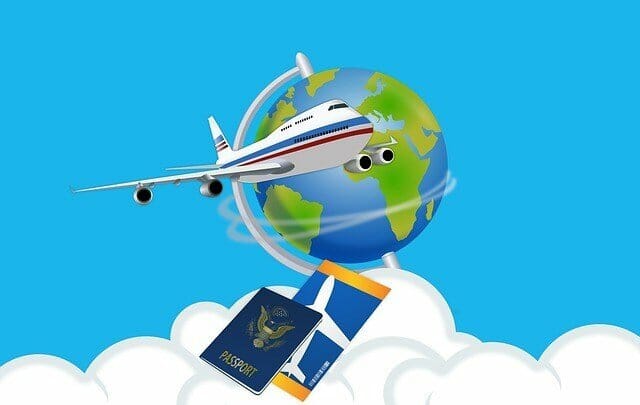 The easiest way to buy is online. You can also get airline cards from many major grocery stores or discount stores.
They save you money by selling the airline cards at less than face value occasionally during promotions.
In retail outlets, you'll usually get gift cards in small values of $50 or $100.
You also have the option to buy multiple cards but ensure you keep track of them.
Again, check with specific airlines as some may have restrictions regarding the number of cards that you can use to purchase a ticket.
Aside from physical brick and mortar stores, the most ideal place to buy gift cards is the airlines' websites.
You can rest easy about the validity of the purchase and on purchasing gift cards, you'll have different shipping options, including:
Standard
The two-day shipping
Overnight shipping
E-gift card
With some airlines, there is the option of a virtual card or e-gift card.
With this type of delivery, the buyer receives an email, PIN number, and card number.
The best thing about a virtual gift card is the convenience and the fast process.
But, this does mean you'll have to get slightly more creative with how you deliver the gift to your loved one.
A positive is that you can print the email and still surprise your loved one with a creative gift presentation!
Keep an Eye Out for Pitfalls
When you are thinking of how to give airline tickets as a gift, watch out for pitfalls.
This is especially true in the case of using airline gift cards. Without proper consideration or knowledge of the entire process, the trip can quickly turn into a nightmare.
No one wants to see the recipient ending up stressed and even having to waste their own money on unexpected issues, like additional baggage fees or meal fees.
Airline's mostly offer similar things these days but try and bring up a conversation where you had a good and bad experience with an airline to see if your loved one has any flight carriers they absolutely do not like.
You'll know to avoid buying a gift for this airline. Imagine being stuck to a specific airline that you don't even like.
Booking an airline frequently used by the recipient is a good idea.
You can also consult with the recipient or leave the option open for them to decide. You never know, they might just find a cheaper and more convenient choice. Though this option will likely spoil the surprise.
Other tips
Before settling for an airline, check to ensure there are no additional expenses that might force the recipient to use their money.
You could also gift your loved one with a prepaid MasterCard or Visa to buy an air ticket and use it on the trip.
When buying airline gift cards, be sure about the solidity of the airline. There is no assurance that you could get your money back from a bankrupt airline.
Also, be aware of the terms and conditions of using airline gift cards. Some airlines don't freeze the accounts of stolen or lost gift cards.
If you have any doubts, you could speak with a travel expert to help you with your budget, airline reputations and getting a solid deal.
How to secretly give your crush a gift
How to Give Airline Tickets as A Gift – The Conclusion
Giving airline tickets to the ones you love may seem like an impersonal gift at first glance, but if done right, it's one of the best presents you can give. The gift and experience of travel.
To avoid the gift recipients reaction from being underwhelming, come up with creative ways to make it personal and interesting. Above all, make sure it's somewhere they want to go and is on their bucket list!
The gift doesn't have to be a huge travel vacation – another way to get the excitement going is to offer "peak experiences."
Keep in mind the recipient's interests and something small like a guided hike they haven't done before or surfing lessons, depending on the destination, will go down a treat!
We hope that this guide has shone some light on how to give airline tickets as a gift. Just remember that this type of present requires a fair bit of thought, planning, creativity and investment.
Regardless of the outcome of the surprise adventure, the experience is a forever gift with lifetime memories.