Looking for some gift ideas for your toddlers? You're at the right place!
The holiday shopping season is well underway, and the most popular children's gifts are already sold out. Don't take the chance of not getting your children what they want for Christmas; start shopping as soon as possible.  
We discovered all of the toys and games that your child will want to get their hands on this year, from creative toys that allow your child to step back from their gadgets and immerse themselves in a new, magical realm to vintage retro toys. 
In a rush? Here are our top picks:

We've found the perfect stuff to make them happy, so here are the most incredible Christmas presents for toddlers in 2021 that we're sure they'll like playing with!
Little Tikes Tobi Robot Smartwatch
On number one, We have the little tikes Tobi robot smartwatch. 
Even if your children aren't old enough for an Apple Watch, this age-appropriate wristwatch is an informative Christmas gift for children that they will love.
The Tobi Robot Smartwatch from Little Tikes is mainly for fun purposes. It doesn't make phone calls or monitor your child's whereabouts because it's designed for kids who aren't old enough to be alone.
Your toddlers will adore the little Tobi robot, which has been programmed with over 100 entertaining moves and interactions. It has a calendar, timer, alarm clock, reminder list, stop-watch, and two built-in cameras for taking hilarious pictures and videos with friends, along with plenty of games to keep them busy.
As a result, children can use the Tobi Robot's educational activities to practice telling time and solving mathematical questions, dance and roam about to achieve fitness goals, show their artistic side through photography, and so on.
Your toddler can also feed Tobi and construct a unique room for him, making the Tobi watch feel like a hybrid between a digital pet and a kids' educational tablet.
The Tobi Robot will appeal to younger children. It combines knowledge and fitness with plenty of replay value in a lighthearted package. It also makes your kid understand how to properly take care of their first smartwatch.  
At the very least, it's a cost-effective method to get your child a digital camera.
Kiwi Crate
KiwiCo is a monthly subscription package that encourages youngsters to think of themselves as builders by engineering and creating their unique designs and results.
It is quite simple to get started with KiwiCo Crates. KiwiCo crates are available in various concepts and suit a variety of age groups. Each box contains a new project for you and your children to try out and learn about.
Kiwi has a box developed specifically for your child, whether they are a toddler or a teenager. Although toddlers will require parental help to follow the instructions, the tasks in each box are entertaining, creative, and informative.
They have a variety of fun and educational STEAM projects to inspire creativity, exploration, invention, and knowledge.
Melissa & Doug Pattern Blocks and Boards
The options are endless when it comes to the shapes and patterns your child can make with these colorful geometric blocks, but they can also construct the patterns that come with the set.
Geometric shapes like hexagons, rhombuses, trapezoids, and others will put your toddler's problem-solving skills and innate curiosity to the test.
The famous Melissa & Doug pattern blocks and boards toy is a collection of 120 wooden blocks in various sizes and colors that encourage children to create vivid patterns on five boards.
These brands' toys encourage a world of exploration and hands-on education because they are crafted with quality and care. There are no screens, no applications, just safe toys for children of all ages.
Artie 3000 The Coding Robot
Artie 3000 is a cute little robot that uses straightforward drag-and-drop software to allow your children to sketch program-specific design patterns. 
Artie comes with four washable pens in various colors. This Christmas present for kids doesn't even need Wi-Fi to make really cool drawings.
Artie 3000 is a game-changer for teaching kids how to code. Artie's User Interface (UI) visual software teaches youngsters how to code (and draw) multiple functions and integrates with other coding apps. 
It is critical that youngsters can create code for Artie using other popular programming languages in addition to the Artie UI.
After mastering Artie UI, kids can progress to a more complex or challenging coding language, which we believe raises the toy's play value enormously.
Altogether, it's an entertaining toy and a valuable tool for learning to code while creating art. It's exciting for kids to experience the final product firsthand. It stimulates children's creativity and imagination when they play with it.
Tie-dye Fuzzy Crocs 
Let's face it: waiting for children to tie their shoes every morning is a test of endurance. A pair of comfy lined Crocs is the perfect solution for keeping their feet toasty without the use of shoelaces.
The vibrant bursts of tie-dye designs on these Crocs Classic clogs are the perfect way to let your little one make a funky fashion statement. They are durable, fun, and filled with good vibes. The simple slip-on shape is ideal for toddlers, but it'll also appeal to weary tweens.
Comfortable, but with a dash of personality. They're ready for action anywhere the kids want to go, from the park to family vacations.
Yoto Player
A Yoto Player is the answer if you're searching for a screen-free approach to keep your child entertained.
It's a wireless speaker with the added feature of being able to purchase audiobooks on actual cards. 
To start listening, your child inserts these cards into the front of the Yoto Player, much like a cartridge into an old-school video game console. 
It includes audiobooks and meditations, bedtime stories, kid-friendly radio stations, podcasts, and peaceful sleep sounds. All of this is done without using a screen, instead of relying on a lovely pixel-art display that also serves as a clock.
The Yoto Player's coolest feature? It can be operated by children without the need for adult guidance.
Design & Drill Robot
Thanks to Educational Insights, the little robot enthusiast in your life may now design and construct their very own robot. 
The Design & Drill Robot is the ideal start to STEM learning through fundamental engineering and building activities. This little robot is aimed towards children aged 3-6, which, in our perspective, is a good age range for this item.
With kid-friendly tools that tiny builders can readily calculate, your kids can fit together pieces and drill in bolts with this hands-on toy! 
Your child can use colorful stickers to personalize their new robot pal when finished. 
Then they can go on to the Design & Drill Bolt Buddies, a collection of playsets that include a recycling truck, a rocket ship, a fire truck, a chopper, a police motorbike, and a sports car that they can build together and disassemble using a toy drill.
Purrble
Purrble is the new stress-relieving cuddling partner that's always at hand. It is a cuddly, engaging plush pal that helps children relax and control their emotions. Purrble is intended for children to explore, forming a unique link.
Kids can feel Purrble's heartbeat speed up when experiencing strong emotions. It has seven sensors and a heartbeat that reacts to any contact, allowing children to recognize their own emotions through social-emotional learning.
Your kid can pat and hold the Purrble to soothe it down. It has a soothing effect on the person who is conducting the calming. It is similar to a chillout toy, but it's a good deal better.
This plush toy is made with a mix of social robotics and psychological elements in mind. To accommodate a wide range of Purrble parents, each figure has its unique feel and tailored cloth.
Purrbles are great for children and adults with ADHD, autism, sensory processing disorder, and other neurodivergent conditions.
A Crystal-Growing Lab 
This is a fantastic National Geographic crystal growing kit! 
Your kid will be able to grow eight colorful crystals of various colors! Eight powder packs, eight base rocks, four silicone slots, a stand with lighting, and full-color directions are all included in the package to build a crystal. 
Begin your mineral collection! This kit will assist your youngster in gaining further physics and geology information (they may even begin collecting minerals).
Allow them to explore their passion for science with a fun kit that allows them to grow eight multiple-colored crystals. Red, green, blue, purple, yellow, and glow-in-the-dark crystal chemistry has never been more fun, colorful, and rapid (grows in 3 – 4 days)—the ideal educational present for boys and girls.
When the crystals are ready, they can be placed on a light-up display platform that can serve as a bedside lamp and a display for their studies.
Disney Mad Tea Party Game
Players struggle to stack full cups of tea on top of a shaking table in Mad Tea Party, a new game by Funko Games based on Disney's animated version Alice in Wonderland and the rotating Disney Parks attraction of the same name. What could possibly go wrong?
The Disney Mad Tea Party concept is uncomplicated, and it's a lot of fun to play. It also helps little ones to practice counting and color matching skills, as well as strategic planning.
It's a Disney-themed stacking game: the action takes place on a shaky table, and different cards instruct players on which types of teacups to stack and where they should arrange them. 
The game ends after a person has used up all of their cards; thus, the game continues even if the teacups fall over.
The game is designed for 2-10 people aged five and up and is scheduled to last 20 minutes. It's a beautiful tabletop game that both kids and adults will like, and you don't need to know anything about the movie to enjoy it.
Osmo Little Genius Starter Kit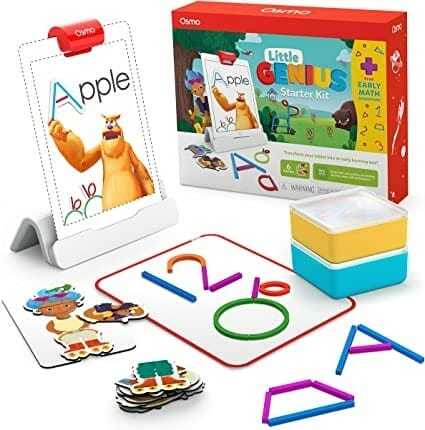 Osmo, a top-ranking educational gaming system that works with iPads and Amazon Fire tablets, takes this concept a step beyond by adding real games into their apps.
For toddlers aged 3-5, Osmo's Little Genius Starter Kit brings digital learning to the next level. Osmo makes learning exciting and produces a well-polished result by utilizing current technology in innovative and clever ways. 
Osmo also has a range of kits and extensions for various age groups and abilities if you look around.
Toddlers can look over shapes and colors, practice counting, learn letter formation, and more with more than 50 pieces. This kit requires an iPad, which is available separately.
The Little Genius Starter Kit makes intelligent use of an iPad to help your child build various early abilities such as creativity, curiosity, and more.
Get Ready for School Learning Desk
The activity desk and a tiny stool are included with this item. Simply connect the four legs of the desk to the four legs of the stool, and they are ready to go. 
This will take a few seconds, and it will be simple enough for your toddler to complete after the legs of the desk or stool have been knocked out.
This desk contains interesting minor features, including a meteorological station, a calendar, and a clock. When the youngsters turn on the projector, it glows as it highlights images for them to trace.
Final Thoughts
So, this article has provided you with a plethora of suggestions for the most fabulous Christmas gifts to offer your children this year. 
We hope that our list was useful and answered any questions you might have regarding what to get kids for the holidays. 
Whether you're searching for something educational or simply want to spend time with family and friends over the holidays, there's something for everyone. These suggestions can assist you in ensuring that your children enjoy a wonderful time with their relatives.