While it's true that taking on the role of baseball coach for kids can be incredibly rewarding, it can also be stressful and feel like a thankless task.
So, any gifts baseball coaches receive at the end of the season, are greatly appreciated in return for their passion for the game.
So, what are great baseball coach gifts?
In a rush? Here are our top picks:

If you are struggling to think of the best end-of-season gift to get a baseball coach, we are here to help you out.
In the following post, you will find some interesting and fun baseball coach gift ideas with your local baseball coach in mind. Picking an end of season baseball coach gift from this list will make your coach lose their mind!
Full Count: The Education of a Pitcher by David Cone
If your kid's baseball coach is an avid reader and enjoys learning about different techniques and methodology adopted by different coaches over the years, he or she will love this book.
David Cone, as you may already know is a former Major League pitcher.
In this book, which is part autobiography, part manual, he discusses the techniques his father used to teach him before he hit the big time.
Rawlings Cal Ripken Competition Grade Youth Baseballs
You may think that the gift of baseball is the last thing a baseball coach would want. However, you'd be wrong.
Even if the coach always seems to have a large supply of baseballs, they are most likely to be old and not in great condition.
That's not counting the many he's probably lost throughout the season.
These Rawlings Youth baseball balls are the perfect gift and are available in boxes of either 6 or 12.
Rawlings Heart of the Hide Baseball Glove Series
Another very practical gift that the baseball coach is going to appreciate, in a similar way to the gift of balls is a good quality baseball glove.
We know that the coach is likely to have one or two in his possession, but how good in terms of quality, are they?
This is quite an expensive one we have selected, but the Heart of the Hide baseball glove series is one of the best.
That's why, if you decide to pitch in together with your teammates, your baseball coach will be over the moon.
I'm Not Yelling This Is My Baseball Coach Voice T-Shirt
For the coach with a good sense of humor and lungs, why not give them this great t-shirt.
Featuring the funny statement and made from high-quality materials, it comes in both men's and women's fit types, various sizes, and 5 smart colors.
Mizuno Coach's Bucket X, Black
Another more expensive gift, but one that a group of you or the whole team could get for your beloved coach is the Mizuno Coach's Bucket.
Featuring adjustable and padded shoulder straps, this is the perfect organizational tool for coaches to keep baseballs and other important equipment in one place.
It holds 2 dozen softballs or 4 dozen baseballs.
Baseball Whiskey Glass
Does your baseball coach love a drink at the end of a hard day's work or after a successful season?
Why not show him appreciation with this whiskey glass with a unique baseball design.
It features a heavy bottom that makes it comfortable to hold with a rounded body to help with swirling and has stitching to make it look just like a baseball.
Lifetime Creations Engraved Personalized Baseball Coach Stainless Steel Travel Coffee Mug
What coach doesn't need a fresh cup of joe in the morning before training?
To show your gratitude for their dedication and guidance, you could give them something better than a plastic or paper cup to drink their favorite hot beverage out of at practice or when they are running through playbooks.
This stainless steel travel cup is a great choice.
As well as having a generous 20-ounce capacity, it can be personalized and engraved with your coach's name and a special message.
Stainless Steel Baseball Bottle Opener
In keeping with the drinking theme, if your coach loves a cold one, you could present him with this cool bottle opener.
If the baseball element looks authentic, that's because it is made from genuine baseball leather.
The bottle opener component is magnetized and catches beer bottle caps so that they can be easily thrown away.
Collapsible Telescopic Portable Stool
For a more practical gift, you could invest in this collapsible telescopic portable stool for your coach to use during matches and training.
The cushion measures 10 x 10-inches and benefits from high-quality memory foam.
With a telescopic height adjustment, you can set it to any height between 256-inches and 17.7-inches, so it's perfect for coaches of all shapes and sizes.
House of Jack Co. Baseball Bifold Wallet
Another practical gift for baseball coaches everywhere is this leather bifold wallet.
It is handcrafted from genuine full-grain leather and has an embossed stitch design that makes it look like a baseball.
From a functional point of view, it features 8 interior slides for cards, 2 pockets for receipts, and 2 ID windows.
What to Consider When You Give a Coach a Gift at The End of The Season?
When you are trying to choose from the various end of baseball season gifts out there, you need to think about the individual you are buying something for.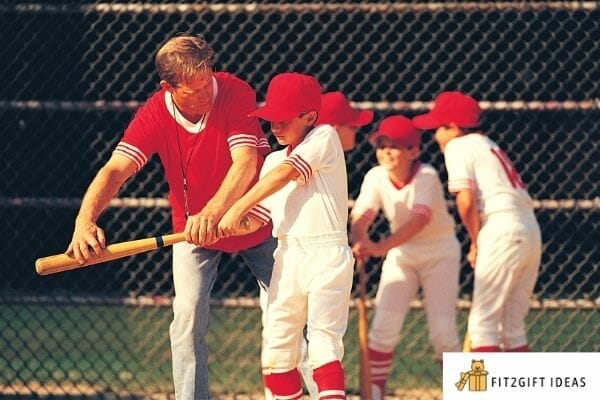 A gift will always mean more if there is more thought behind it. This is key. Get personal and show your baseball coach that you have been listening.
Sometimes, it's not even important how much has been spent, but that you thought to give them a gift in the first place.
Here is an example of some things to pay attention to with your baseball coach:
Maybe they're a husband and have spoken about their wife needing something
Maybe you heard they have kids and mentioned their hobbies
Maybe they've spoken to you about their favorite baseball or sports team and want to watch them in future
Maybe you see them always with their favorite drinks in their hand and you can buy them a crate
Maybe you know their favorite color and can get baseball coach gifts which includes their favorite color
Maybe you know their favorite store or shops
Maybe they told you their favorite brand of shoes
Your coach gift doesn't even necessarily need to be a purchase for a high price. You can get together with a bunch of players from the team and chip in for one or a few gifts.
Or you can create something like a gift basket and each fill it in with things your baseball coach loves.
Additionally, the can save money and you simply can't miss with a gesture like this as an end of season gift.
Each team member or player can search for a gift they think the coach would like, which also spreads the responsibility and increases chances that your coach will like many gifts from his gift basket.
Summary
It's only natural as the parent of a little leaguer or young little leaguer to want to show the coach how much you appreciate their efforts during the season.
Baseball coach gifts are the perfect way for players to show this support.
They put a lot of time, effort, and personal energy into their work and often are not given the credit they deserve. A baseball coach gift will make them feel hugely appreciated for their hard work.
We hope the above list of end of baseball season gifts has given you some ideas as to what you can give the man or woman in question.
Remember, it doesn't matter how much money you spend as the thought behind the gesture and gifts will always mean more and turn your coaches "meh" day, into a great day!
You'll certainly be a favorite when you return and enter the field next season (unless you slack off!)
Read Also: